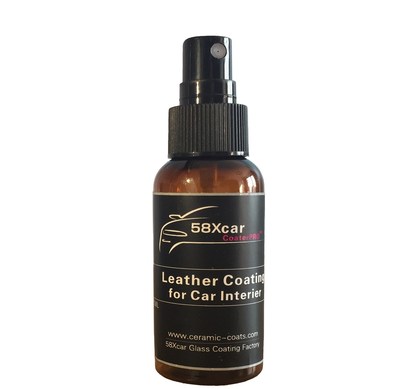 Auto Leather & Vinyl Coating
Maximum UV Protection for Leather & Vinyl
58Xcar Leather & Vinyl Coating creates a hydrophobic coating with concentrated UV absorbers to protect leather seats and dashboards from premature aging, cracking, and other damage such as color transfer and staining of leather seats.
58Xcar Leather & Vinyl Coating is an acrylic hybrid resin that creates a strong, yet flexible coating for these softer surfaces and high resistance to chemicals. The coating contains special matting agents to maintain the original factory appearance of the surface it is applied to.
How Does it Work?
58Xcar Leather & Vinyl Coating is applied liberally to the surface and left to be absorbed by the substrate. The resin penetrates the surface to produce a permanent bond within the material. This is particularly important for leather seats that are subjected to constant wear and abrasion. As the coating soaks deep within the leather, it is resistant to be removed through normal use.
Feather:
Suitable for leather surface
Protect Leather from Cracking
Excellent Durability
Super Shiny
Superior Hydrophobic Effect
Nice Wear Resistance
UV Resistance
Keep Leather Soft
Factory Look & Feel
*************************************************
Auto Leather Coating Kit--USD39
include:
leather coating: 50ml/bottle
coating applicator: 1 pcs

cleaning towel: 1pcs
coating suede cloth: 1pcs
instruction paper
(one set is enough for one car)